Factoring in Finance: Fuel for Growth, Not Just Survival
There is no doubt that finance is the main fuel of every business. Companies that offer credit periods understand the importance of getting paid on time. The longer the duration of unpaid invoices, the bigger the problem for businesses. Factoring in finance is a financial solution that can help address various pain points for businesses. 
Factoring Finance, which is also known as invoice discounting or bill discounting in India, is selling of unpaid invoices to a Factoring company and getting instant cash to run the business efficiently. It removes every kind of financial pressure from the business to get unnecessary credit and act as the fuel for growth and not just for survival.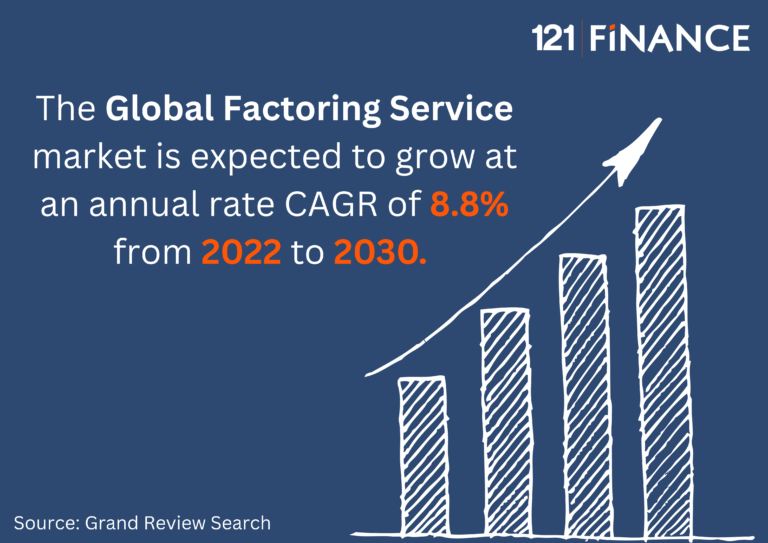 How does factoring work & fuels business growth?
Growth is the dream of every revenue earning business irrespective of their size. Growth demands cash-flow stability which can be difficult to maintain when a company has slow-paying customers or long payment cycles. Additionally not having enough capital in the account and the unavailability of working capital finance without collateral or security hampers the growth of such companies. 
In such cases, selling unpaid invoices to a factoring company provides cash faster, which can be used to fuel the implications of growth including sales, overheads such as headcount, stock purchase, materials, etc.  
Let's say you run a b2b business and waiting to get paid from other business/company that has used your services/products. Due to traditional waiting period between 30-60 days all your time is consumed in arranging the funds to fuel your working capital and somehow find a way to grow your business at the same time. Because your business require working capital to cover day-to-day operational expenses, invest in growth opportunities, purchase inventory, or hire additional staff. That's where Factoring Finance offers incredible support. With the RBI certified NBFC-Factor you get the payment within 24 hours. Apart from getting instant cash, discounting your bills gives you the time to focus on services, products and other core strategies rather than waiting for your customers to pay on time.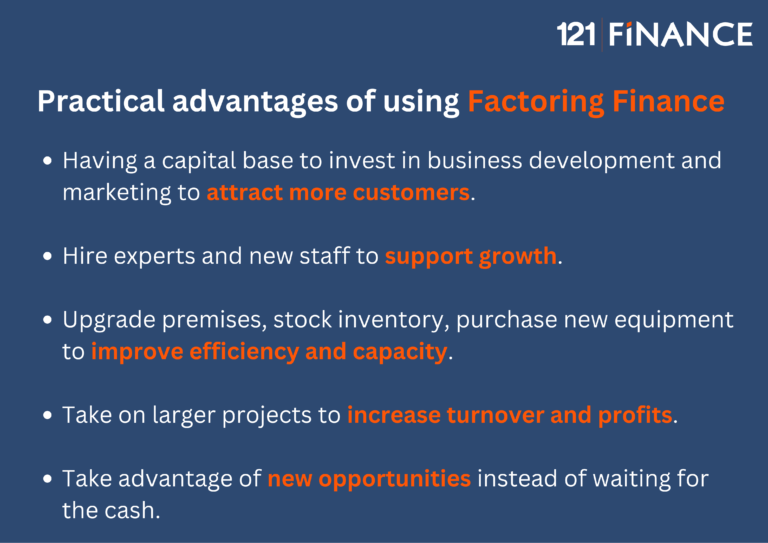 Benefits of working with a client-focused Factoring Company
Understanding the fact that growth should never stop is very important for businesses, especially those who want to take on new opportunities. But it can't happen without a partner that doesn't share the vision as yours.  When it comes to primary aspects like business financing, the very first thing you need is to trust your lender.    
The obvious benefit of working with the RBI certified NBFC-Factor is the assurance that you are collaborating with a company that is reputable, has a proven track record of success and has the best interest of your business.    
It means you can keep on focusing on your business and have a finance partner to provide you with the best possible support when it comes to invoice financing.    
We are 121 Finance, India's first RBI certified NBFC-Factor post 2022 revised regulations. With a mission to bring Factoring Finance to the MSMEs, startups and to support small ticket size trade to grow, we offer customized finance solutions that aren't traditionally available to small businesses. Connect with our expert today and learn more about our services.